Just a few minutes of face rolling gives noticeable results
"The performance of the Carbonnique roller is grounded in the science of skin. Facial massage stimulates your blood circulation, removes excess fluids and toxins causing puffiness and makes your face look more sculpted and lifted.Mechanical stimulation while face rolling can increase the content of basic components of dermis including hyaluronic acid, elastin, and type I collagen, and improve the migratory capacity of fibroblasts (cells of the dermis which are of key importance for the proper structure of the skin needed to glow)"
M.D Ph.D Dermatologist Monika Konczalska.
Welcome to Carbonnique Studio
Carbonnique Studio is a wellness platfrom with unique face and body massage classes incorporated into yoga flows and core exercises to support your skincare goals.
You can give yourself an at home facial and practice lymphatic massage with professional instructors.
WATCH CLASSES
I love love love the Carbonnique face roller! Everything from the sleek, beautiful design to how uplifting and cool it feels on my skin to and mostly, how I look after I've used it. This effective roller is pushing my 48 years back to a solid 40
It isn't just the design which is so hyper chic, so sleek, it should be a featured object at the MOMA, it's the way it handles. It feels as good in the hand as it does in motion. I also love how it contours, gently pinches the skin. What a revelation. Even my husband loves it.
I absolutely LOVE this tool. First of all, the design is gorgeous and truly a piece of art! It hugs and massages all the contours of your face perfectly with such a unique feel, like no other roller.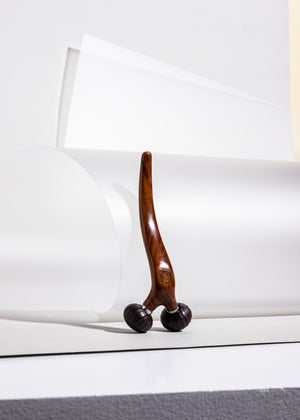 face & neck massaging tool
Sale price Price $139.00 Regular price $139.00 Unit price / per